Caitlin Well '08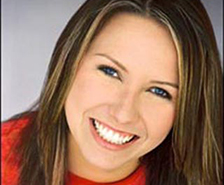 Caitlin Well is a casting associate for the Warner Bros. Feature Casting Department under executive vice president Lora Kennedy, and senior vice president Kristy Carlson. Well began her career in casting as an assistant to Casting Director Ronna Kress after briefly interning for Alyssa Weisberg. She also worked for Bestrop/Yanklewitz Casting before becoming an associate at Warner Bros. in 2011. Caitlin has worked with such esteemed directors as Baz Luhrmann, Ben Affleck, Zack Snyder, George Miller, and the Wachowskis, among others. Some of her film credits include Frankenweenie, The Lucky One, Happy Feet 2, and Man of Steel. She has also overseen the casting of various Warner Bros. projects, including Argo, Cloud Atlas, and Winter's Tale, Fury Road, 300: Rise of an Empire, All You Need Is Kill, and This is Where I Leave You. 
Well earned a bachelor's degree in communications/television/radio/film, with a minor in acting. She took the time answer to the following questions:
What do you remember most about SU?
The people. I'm still best friends with a lot of the people in my major, many of whom worked in the Newhouse edit suites and/or took senior thesis with me. A bunch of us moved out to LA after graduation and still see each other on a regular basis. A couple of us even work on the WB lot together!
Who was your favorite professor while at SU?
Professor Schoonmaker was very influential. When I toured the campus for the first time as a high school student, I sat in on his Television Production class, which solidified for me that I wanted to go to Syracuse and pursue television and film. Four years later, I took that class with Schoony and it was absolutely one of the best college experiences I had, which ultimately shaped my career path.
Why did you move to California?
I interned in both NYC and LA before I graduated, and that real world experience made me realize that most of the creative jobs in the entertainment industry that I was interested in pursuing were all based in LA. Plus, the alumni ties in LA are very strong, and I was confident that they would lead to big opportunities, which they did!
When was the last time that you visited the campus?
Sadly, I haven't been back since graduation, but my parents are diehard 'Cuse basketball fans and go every year!