JaNeika James G'05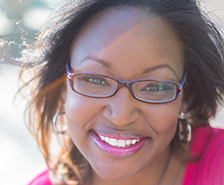 JaNeika James has had an ongoing love affair with film and television since childhood. After earning a Bachelor's Degree from the University of Florida, she decided to pursue a career in film and television, earning her Master of Arts Degree in Television, Radio, and Film from the Newhouse School at Syracuse University.
During her time in graduate school, JaNeika undertook a thesis project titled: The African-American Female Influence In Television. She conducted interviews with several African-American female powerhouses in the industry, including Yvette Lee Bowser—Creator and Executive Producer of the hit television series LIVING SINGLE. This interview of a lifetime led JaNeika to begin her career under the guidance and mentorship of Mrs. Bowser at SisterLee Productions.
In addition to working in network and cable television, JaNeika served as Executive Producer, along with her writing partner/producer twin sister, JaSheika James, for the romantic comedy web series, JADED; starring former AMERICA'S NEXT TOP MODEL winner Sal Stowers, Raney Branch (THE ORIGINALS), Natasha Marc, and McKinley Freeman (HIT THE FLOOR.)
JaNeika is currently a Story Editor on Fox's #1 hit television series, EMPIRE, along with her sister JaSheika. She is committed to creating, developing, and writing projects that enlighten, inspire, and entertain audiences around the world
How did your experiences at Syracuse University shape your career?
So many of my experiences at SU helped shape my career; including the friendships and network created with my Sequence 57 classmates, as well as the relationships I fostered during the courses I took with specific professors. Professor Fiona Chew's Research class helped crystalize my commitment to writing and producing content reflecting diversity, for the masses. Andrea Asimow's Art of The Pitch class helped me build confidence in selling my ideas and enrolling people into my vision for projects. Professor Richard Dubin oversaw the independent study I took part in that led to my first job in LA; while Professor Michael Schoonmaker approved said study, and the lovely Shelly Griffin helped coordinate it. This afforded me the opportunity to visit LA for the first time, and interview a number of African-American women in entertainment who inspired me to become a TV writer.
What was your first job after college?
My first job after graduating from Newhouse was an internship on UPN's Half & Half. My internship later evolved into a formal job as assistant to the showrunner, Yvette Lee Bowser, at SisterLee Productions. During my time on the show, I was able to work in all areas of the production including the writers room, casting, costumes, on set, in the production offices, and even with accounting. It was an additional, all-encompassing, "education" in the form of on-the-job-training. It was also one of the best work experiences I've ever had as it helped me comprehend what I was really getting into when I decided that eventually I'd want to become a showrunner. It's a huge responsibility and undertaking that very few people are able to successfully take on. My first job is also where I was thoroughly groomed as a writer.
What has been a major highlight of your career thus far?
Thus far, it has been getting my first staff writing job on EMPIRE. I had been working in television for almost ten years when the opportunity came after I took part in FOX's 2015 Writers Intensive Program. Working as a staff writer on what became a ratings phenomenon during the 2015 television season brought about opportunities I never could have imagined. I've had the pleasure of taking part in panels and speaking engagements across the country, connecting directly with audience members and fans of the show, as well as being featured in articles in magazines including Black Enterprise, Essence, and The Hollywood Reporter. It has been an incredible blessing being a part of a hit show starring a largely African-American cast, written by an incredibly diverse, and largely African-American, writing staff. To be at the forefront of Hollywood's resurgence in storytelling driven by minorities, along with a renewed interest and commitment to diversity—both on and off-screen—has been nothing short of a dream come true.
How have you stayed involved and connected to SU?
I stay connected to SU through SULA, specifically. I love taking part in panels and networking sessions connecting with SU Seniors spending their semesters in LA. The year I graduated was the summer that the first week-long SU trip to LA took place; essentially laying the foundation for the current SULA program. It's great to see how much the program has evolved and expanded, and to be able to provide insight and encouragement to students who are embarking on their journeys into the Los Angeles entertainment community.
What are you working on now?
Currently, I am working as a Story Editor with my writing partner and twin sister, JaSheika James, on FOX's hit series, EMPIRE.