Jim Kidder L'01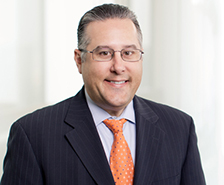 Jim Kidder crossed the country from Santa Barbara to Syracuse to attend SU's College of Law, earning his degree, making life-long friends, and enjoying Syracuse's four seasons along the way.
Tell us briefly about your career path and where you are today.
While participating in the UCDC Program (through my undergraduate university - UC Santa Barbara), I stumbled across a law school fair and Syracuse University College of Law.  Wanting to pursue a legal career, I thought that the Law School offered a unique blend of challenging academics and practice experience offered through a variety of legal clinics.
 Following law school graduation in 2001, I joined O'Melveny & Myers LLP as an associate in the health care group.  In 2011 I left O'Melveny for an in-house legal position with Smile Brands Inc.  At Smile Brands, I served as Senior Counsel and also Director of Compliance.  In 2016, I had the opportunity to rejoin O'Melveny in the Newport Beach office.  I am currently Special Counsel in the health care group and maintain a cross-disciplinary health care practice that includes regulatory counseling, litigation, transactions, and investigations for a wide-variety of health care clients.
 How did your experiences at SU help shape your career?
Syracuse University College of Law gave me the tools to succeed in my career.  The College of Law is unique in that it offers students a solid academic foundation required of all future attorneys blended with practical experiences.  For example, during my second year in law school I served as an extern with the U.S. Attorney's office in Syracuse.  The externship gave me hands-on experimental learning, skill-building, and professional development in a unique setting.  The experience taught me the skills I needed to excel in the legal profession, including how to write winning briefs, draft documents, craft persuasive arguments, and prepare cases for trial.
My experiences could not have been possible without the strong guidance of mentors at the College of Law -- especially Professors Bill Banks and Tom Maroney.  Each of them challenged me to think beyond traditional legal theory giving me the confidence to become a profession-ready attorney.
When you look back on your life, what has your SU experience meant to you?
My time at Syracuse set me on the path to success.  The College of Law gave me a legal education that prepared me for my current practice.  I was able to amplify my academic education with practical training as part of the externship program.
But my experience at Syracuse was also about friendships.  The friendships I cultivated while at Syracuse are life-long relationships.  Despite the geographic distance between many of my friends, our shared-experiences at the Law School have given us remarkable opportunities.
 What is your favorite memory of Syracuse University?
That first day on campus is seared into my memory.  Before arriving for the Fall semester, I had not visited campus.  Upstate New York is a bit different than the beaches of UC Santa Barbara.  As a Southern California native, over the course of my three years in law school I came to enjoy the "seasons" -- especially, the beauty and attraction of both campus and the surrounding upstate community.  Those winter days provided incentive to stay in-doors and study.  But, those beautiful Fall and Spring days were times to enjoy.
Why do you think it's important to give back and help future students at SU?
My degree from Syracuse University College of Law will stay with me forever.  It's extraordinarily important for me to help the College of Law succeed; help current students succeed; and enhance the College's reputation into the future.  It's why I served for many years on the Syracuse University College of Law Alumni Association.  It's why I currently serve as the President-Elect of the Syracuse University Alumni Association.  Whether it's through time, talent or treasure, I hope that by giving I can help current and future students have the same practical formative experiences at Syracuse as well.
As an alum in the LA region, how have you enjoyed connecting with other alumni in the area?
The SU in LA alumni program runs terrific programming throughout the year.  Events where leaders and professors from various academic units across campus come to Southern California give all alumni the opportunity to re-connect with the University and their fellow alums.  I also especially enjoy networking with new graduates or incoming students as they begin their professional careers.