Rob La Plante '98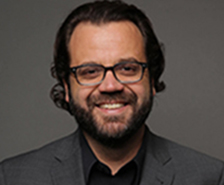 Rob La Plante graduated from Syracuse University with duel bachelor's degrees in TV/Film Production and Marketing. He began his television career casting through the ranks of Bunim-Murray Productions, eventually landing at Mark Burnett Productions, face-to-face with Omarosa when casting her for the first season of "The Apprentice." La Plante worked on 4 seasons of "The Real World" (Hawaii, New Orleans, Chicago, NY2) and corresponding seasons of "Road Rules." After casting the first 4 seasons of "The Apprentice," "For Love or Money" and "Dog Eat Dog," he firmed his grip on production and post through his work as a producer on all three network shows, including 6 seasons on "The Apprentice," one of which garnered him an Emmy Nomination for "Best Reality Competition Series."
La Plante then spent three years as the VP of Development at Tijuana Entertainment, creating and supervising the development and production of of A&E's "Obsessed" and MTV's "Is She Really Going Out With Him," both of which he served as Executive Producer.
La Plante joined the team at Lighthearted Entertainment in 2011 as Executive Vice President. Under his leadership Lighthearted has enjoyed considerable growth with MTV's "Are You the One?" and Vh1's "Dating Naked" and "Bye Felicia!"
Q: How did your experiences at Syracuse University shape your career?
A: Syracuse prepared me in the best way possible. My education both in and out of the classroom endowed me with practical knowledge with real-world value and application. In addition to learning more about what I love, I also learned the skills necessary to succeed in this industry.
Q: What was your first job after college?
A: A production assistant on low-budget TV shows
Q: What has been a major highlight of your career thus far?
A: Achieving my goal of owning a successful production company has been the most satisfying experience of my career.
Q: How have you stayed involved and connected to SU?
A: I have hired dozens of alumni over the years and they keep me very aware of all things Orange. I like staying updated and hearing how Syracuse prepares its students for various facets of the entertainment industry.
Q: What are you working on now?
A: We have four unscripted shows in production: "Are You the One" on MTV (third season), "Dating Naked" on VH1 (second season), "Twinning" on VH1 (first season), and "Labor Games" on TLC (first season).