Philip Metz '98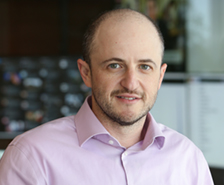 Philip Metz earned his bachelor's degree as a Speech Communication major and Music Industry minor. He now serves as the Senior Director of Entertainment Marketing and Music for NASCAR, where he builds strategic partnerships specializing in music and entertainment integrations. Prior to joining NASCAR, Metz held positions in the music industry including Sagestone Entertainment, where he co-ran the independent record label and management company. He was named to Advertising Age's annual "40 Under 40" list when he was 30-years-old.
While at NASCAR, Metz has secured promotional partnerships around several feature films, examples include Captain America: The Winter Soldier, 22 Jump Street, Guardians of the Galaxy, Oz The Great and Powerful, Grown Ups 2, Disney's Planes, and Transformers 3. He has secured event and in-race participation with stars such as Adam Sandler, Matthew McConaughey and Channing Tatum, and music artists including the Zac Brown Band, Kelly Clarkson, Jason Aldean, Luke Bryan, and Lenny Kravitz, among others.
Q: How did your experiences at Syracuse University shape your career?
A: During my time at Syracuse, I ran the concert board where I worked with various talent agents and managers to negotiate and secure musical acts for the university, which I then promoted to the student body to garner attendance and support for the program. At NASCAR, I use some of these elements on a larger scale to propel the brand into mainstream pop culture, raising brand identity in a marketing platform that stretches across the music, film, and TV industries.
Q: What has been a major highlight of your career thus far?
A: One highlight of my career that stands out was in 2006 when I brokered a partnership with the award-winning Red Hot Chili Peppers to both perform at the NASCAR All Star race live on FX and feature them and their music in a NASCAR media campaign across all of our broadcast and digital partners. Because it was the Red Hot Chili Peppers we all wanted the performance to be both memorable and unique, so we had them perform the first ever mid-race concert which we titled the Red Hot Pit Stop. The performance kicked off the TV and Digital campaign where a :30 second TV spot was produced that featured both elements of this performance along with the band actually performing a Pit Stop.  To this day, the partnership stands out as a great highlight for me.
Q: How have you stayed involved and connected to SU?
A: Since 2012, I have spoken about NASCAR and my career to Sport Management (SPM) students from the Falk College of Sport and Human Dynamics who participated in the Sport Management Immersion program in Los Angeles over spring break. In addition, I have arranged for SPM Graduate students to attend our August race weekend at Watkins Glen International and meet NASCAR industry professionals. I have also spoken twice at SU for the Bandier School as part of the Soyars Leadership Lecture Series about my career as it pertains to the music industry.