Jason Blumenthal '90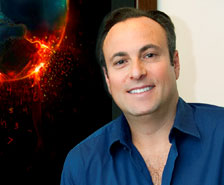 Jason Blumenthal, a producer and partner in the film company Escape Artists, joined Wizan/Black Films after graduating from Syracuse University's S.I. Newhouse School of Public Communications.
At Wizan/Black, Blumenthal was involved with the development and production of Iron Eagle II, Split Decisions, The Guardian, Short Time and Class Act. The company executive produced Becoming Colette, Fire in the Sky, Wrestling Ernest Hemingway, Dunston Checks In, A Family Thing, and Bio Dome. Blumenthal served as senior vice president of feature production at Mandalay Entertainment, a division of Sony Pictures Entertainment, from the company's inception in 1995 through March 1998. During his tenure, he managed Mandalay's production slate, which included such films as The Fan, Donnie Brasco, and Seven Years in Tibet. The company also produced I Know What You Did Last Summer, as well as its sequel, I Still Know What You Did Last Summer. Blumenthal also oversaw Les Miserables and Deep End of the Ocean. 
In April 1998, Blumenthal and his partner, Todd Black, formed Black & Blu Entertainment and entered into a first-look production deal with Sony Pictures Entertainment. In 2001, Black & Blu merged with the Steve Tisch Company to become Escape Artists, while still maintaining their Sony deal. Escape Artists has since produced A Knight's Tale and Antwone Fisher. Blumenthal is credited as producer of The Back-up Plan, The Taking of Pelham 1 2 3, and The Pursuit of Happyness, and as a writer for the film Bio-Dome.