Harvey Warren G'74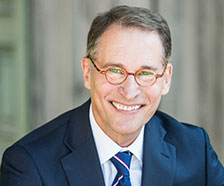 Tell us briefly about your career path and where you are today.
Copywriting television advertising led to a two-decades' career as an executive producer on hundreds of national brand television commercials. My passion for writing turned to motion pictures, with sales to Warner Brothers and Columbia pictures. A member of the Writers Guild of America West, I continue to be an active writer of books and for the screen. 
When you look back on your life, what has your SU experience meant to you?
Learning that there is no limit to what anyone can achieve once given the tool of a great education. Whether producing ads, writing for the screen, or stepping in front of the cameras on the Hallmark Channel, SU provided me the depth and breadth of education to succeed at any opportunity offered to me. 
What successes in your life do you attribute to SU?
Producing the broadcast of the Newhouse II dedication ceremony and 1974 Commencement ceremony for air on WSYR began my career as an executive producer. 
As an alum in the LA region, how have you enjoyed connecting with other alumni in the area?
SULA does a fantastic job of bringing alumni together at stellar events with some of the brightest and most successful minds in the media.   
What is your favorite memory of Syracuse University?
Having the privilege of giving S. I. Newhouse and his wife, Mitzy, a tour of the brand new $10 million building they gifted to SU.  
Anything you'd like to add?
Over 40 years after my graduation, I am still involved and still growing thanks to SULA.  Bravo!