Mark Nicholas '94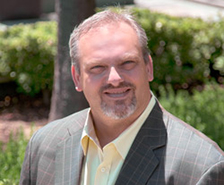 Even though he's been practicing law for 20 years, Mark Nicholas says the lessons he learned about solving problems and helping clients happened before he even left SU.
Tell us briefly about your career path and where you are today.
Following Syracuse, I joined Drinker Biddle & Reath, a law firm headquartered in Philadelphia and New York City. I started my work representing mutual funds and financial firms. I was given the opportunity to sit next to partners in front of fund boards right from my first weeks on the job.
From NYC I headed west to Silicon Valley to work for American Century and became the chief legal officer and chief compliance officer for their upstart broker-dealer. After a few years, my path brought me to Boston at Loomis Sayles and then back to ING North America, where my practice included financial securities law, privacy, data security, and intellectual property.
Throughout my 20 years, I've worked with firms with millions of retail customers and have seen a tremendous number of problems with families and their failures to plan for disability and death. I found that technology was actually compounding planning failures. In 2013, I formed Family Archival Solutions and the National Will Registry, with a goal of helping families prepare for crisis, ensuring that documents and assets are located, and personal wishes satisfied.
I am also educating and speaking on technology and estate planning and running something called "The Free Will Tour," a program designed to help families of lesser means be prepared with basic planning documentation. My fourth book, Death in the Cloud: Living and Dying in the Age of Google, Apple, Facebook and Online Banking, is expected later in 2016.
When you look back on your life, what has your SU experience meant to you?
It is hard to think about the things that I do every day and not tie them into the learning experiences from my Syracuse days. I always think about the people I met along the way, the opportunities to learn skills—like negotiating—that I would spend my life teaching, and my love of SU football and basketball. SU is still my community and pride.
Mostly, however, I am always aware of the lessons of some of the professors that continue to apply. I can say, without exaggeration, that some of those lessons continue to provide me with perspective and context as I work to solve problems and help my clients.
How did SU help you get to where you are today?
In my last two years of law school, I had the opportunity to clerk with Student Legal Services, working with a tremendous number of students and athletes. The amazing attorney and Syracuse icon Gary Sommer took me under his wing and offered guidance I still recall every day. He taught me that law is really just about real people and real problems. We always focused on the humanity of the students and learned to listen and really hear their concerns. I think that this is the most important thing that I learned in all my years practicing law and ironically it was learned before I ever left SU.
What highlights/successes in your life do you attribute to SU?
It is hard to distinguish between the parts of my life that I would have achieved without Syracuse and those that are directly attributable to SU. SU is truly a part of the path that my life has taken and the person I have become.
I vividly remember my first day of SU; meeting others who would become close friends over the next year—an executive from a tech company, a Ph.D., a medical doctor, a retiree, a son of a prominent family, and other new college graduates like myself. I remember thinking that the one thing we had in common was our individuality, each wildly different, and that we weren't merely a bunch of people cut from the same "You'd make a good lawyer" mold. This was a license that we could be ourselves, take risks, and find our own path.
What is your favorite memory of Syracuse University?
I really don't have just one favorite memory. I still tell stories about my first day of school, the moot court competition, Georgetown basketball games, the day we beat the University of Florida, being a first-year law student, and so much else. I think that the greatest memories I have of Syracuse were spending time with our group of friends at Faegan's Pub with flip night, and singing arm-in-arm Mack the Knife and My Way at the end of the evenings. I never took these moments for granted at the time, and regard them as the most carefree moments in my life.
As an alum in the LA region, how have you enjoyed connecting with other alumni in the area?
I enjoy participating in SU events (such as SULA events) and have a lot of fun getting together with SU alums to watch sporting events and work through professional issues. We might be far away from campus, but we are surrounded by a fantastic community in the entertainment industry—so there are always great people to meet and catch a game.