Jeff Goldstein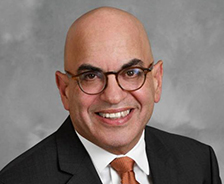 Jeff Goldstein serves as president of domestic distribution at Warner Bros. Pictures, overseeing the theatrical rollout of the studio's films. He has been at Warner Bros. for more than 30 years, beginning his tenure as an intern in the studio's Los Angeles office. He later served in regional offices in Florida, Ohio, and Massachusetts, before rising up through the executive ranks.
Tell us briefly about your career path and where you are today.
After Syracuse, I went in pursuit of warm weather and fun and found Los Angeles. I was able to get a summer internship at Warner Bros and never left. I've had a dozen-plus jobs and lived in various cities for the company. It's been an adventure at every step.
How did your experiences at SU help shape your career?
Through the work-study program (dining halls, resident adviser, Admissions office), I was able to develop a leadership skill and drive along with my entrepreneurial instincts that really inspired me.
When you look back on your life, what has your SU experience meant to you?
I wear ORANGE everyday somewhere.  It just makes me smile.
What is your favorite memory of Syracuse University? 
Hanging out with friends anywhere on campus.
Why do you feel it's important to give back and help future students at SU? 
SU was an important part of my young adulthood and gave me an amazing start to the business world.
As an alum in the LA region, how have you enjoyed connecting with other alumni in the area? 
I instantly connect and relate to fellow alums. We have a shorthand.

Anything you'd like to add? 
Syracuse is special in so many ways.  It was a terrific place to learn, grow and develop. I'm so proud to be an alum.