Conrad Stanley '80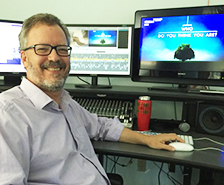 Conrad Stanley credits his study abroad semester in London for exploding his cultural world and providing inspirations that remain to this day. In October, he received an Emmy for his editing work on the TV show, Who Do You Think You Are?
You won an Emmy! What was that like?
Winning the Emmy Award has been, hands down, the most exciting event of my career! Being awarded in the category for Outstanding Picture Editing was all the more meaningful. Best of all, however, was sending my kids the text selfie of myself backstage holding my beautiful new Emmy statue! They all went nuts! The support and love of my wife and family were a big part of this acknowledgment and it's been a joy sharing this with everyone. I am one of seven editors awarded for this series and it was particularly sweet because Who Do You Think You Are? is such a unique and special show. (Check it out on TLC!) It was an incredibly proud moment—gratifying after so many years in this industry—and BY FAR the most fun I've ever had in a tuxedo!
Tell us briefly about your career path and where you are today.
I have been writing, editing, and directing here in Los Angeles for most of my career after moving west. I was drawn to post-production editing early on, first learning the basics of linear editing, then later Avid non-linear. I have been fortunate to have worked on a broad range of network and cable programming from The Grammy Awards to Storage Wars, and very lucky to work mostly in the documentary genre and love projects that allow me to collect and share compelling stories. I'm currently editing on the seventh season of Who Do You Think You Are? for TLC and editing/directing on the PBS series Shelter Me. Both will be airing in January.
When you look back on your life, what has your SU experience meant to you?
I will always be grateful for my time in Syracuse. It was my coming of age, where I began defining the adult I wanted to be and had a wonderful time doing so. I took a "gap" year between my junior and senior years, being part of the group that saved the downtown Landmark Theatre from demolition and managed it into a new performing arts center. They still use the logo I had designed! Coming back to school after that really focused my intentions and made my senior year the best of my SU experience. 
How did your experiences at Syracuse University shape your career?
My time at Syracuse was pivotal in helping me grow as a creative person. If I didn't have all the answers after graduation, Syracuse certainly gave me the confidence and enthusiasm to pursue the interests and passions that drive my career to this day.
What is your favorite memory of Syracuse University?
I have many, many great memories of my time at SU (including the blizzards), but would have to especially single out my semester in London. That literally exploded my cultural world and allowed me to soak in so many new inspirations of film, theater, art, dance, and music that remain essential for me to this day. 
I'd also like to make a belated shout out to Newhouse professor Sheldon Gilberg from my junior year, who challenged me like no other had before. That 75-page advertising final project about killed me, but showed I could really dig deep and make something happen I didn't know I was capable of. I've thought of him often over the years as I've faced other big challenges and imposing odds! I hope I can make a difference in another kid's career as he did mine. Thank you, sir.
As an alum in the LA region, how have you enjoyed connecting with other alumni in the area?
Professionally and personally, I enjoy many friendships with Syracuse alumni in Los Angeles. There are quite a number of us living out here, possibly because we all headed for the warmth after so many Syracuse winters! I'm especially glad to have begun my television career at the Post Group in Hollywood when Joan Adler was working there, and value my 15-year friendship and partnership with fellow SU grad Steven Latham, with whom I've made some great television for PBS, including the current Shelter Me series.
Anything you'd like to add?
Varsity Pizza was the best. Hope they are still around! I very much want to get back to campus for a long overdue visit soon!