Fred Silverman '58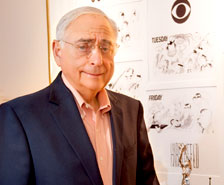 Fred Silverman is the only individual to have run the programming of all three original television networks—ABC, CBS, and NBC. Today, he is president of The Fred Silverman Company, the multifaceted production and program consulting firm he founded in 1982. Most recently, he concluded a two-year arrangement with ABC Entertainment, where he consulted on program planning and scheduling.
Silverman is renowned as the executive producer of such popular network television series as Diagnosis Murder, In the Heat of the Night, Father Dowling Mysteries, Matlock, Jake and the Fat Man, and The Perry Mason Mystery Movies. He also served as executive producer of Bedtime, an adult comedy serial that aired on Showtime; Bone Chillers, a comedy/horror show that was seen on ABC; and the classic game show Twenty One for NBC.
Before forming his company, Silverman was president and chief executive officer of NBC. During his three-year tenure, he brought to the air a number of notable programs, including the Emmy-winning miniseries Shōgun; such weekly series as Hill Street Blues, St. Elsewhere, Facts of Life, Diff'rent Strokes, Gimme a Break, Fame, and Smurfs. He made the series commitment that led to Cheers, pioneered entertainment reality programming with the 1979 launch of Real People, introduced David Letterman in his own network television series, and created cultural television events, which included Live from Studio 8H and NBC Live Theatre.
Silverman also revitalized the NBC News division, which resulted in Today and NBC Nightly News achieving parity with their competition for the first time in years. He created a new FM radio division, with competitive full-service stations in New York, Chicago, San Francisco, and Washington, D.C. Silverman also reintroduced the peacock as NBC's corporate logo.
Before becoming president of NBC, Silverman was the president of ABC Entertainment and was responsible for programming such landmark productions as Roots and Rich Man, Poor Man. He approved such long-running series as Three's Company, Eight is Enough, Laverne & Shirley, What's Happening, Vegas, Charlie's Angels, Love Boat, Fantasy Island, Hardy Boys/Nancy Drew Mysteries, Bionic Woman, Battlestar Galactica, Donny & Marie, Soap, Family Feud, and the Emmy-winning news program, Good Morning America. It was during this period that Silverman brought ABC's ratings from third to first place.
Silverman served as vice-president of programs at CBS for five years, before joining ABC. During his tenure at CBS, Silverman brought to the small screen such programs as The Mary Tyler Moore Show, All in the Family, M*A*S*H, The Waltons, Kojak, Maude, Bob Newhart, The Jeffersons, Sonny and Cher, Cannon, Barnaby Jones, Rhoda, One Day at a Time, Good Times, Charlie Brown and Dr. Seuss animated specials, Scooby-Doo, The Young and the Restless, The Joker's Wild, and The Price is Right.
Silverman earned a bachelor's degree at Syracuse University in 1958, is a former member of the University's Board of Trustees, and has been awarded the Chancellor's Medal. He earned a master's degree in television and theater arts from Ohio State University.
Silverman has received numerous honors, including induction into the Academy of Television Arts and Sciences Hall of Fame, the Man of the Year Award from the National Association of Television Program Executives, the Man of the Year Achievement Award from the Anti-Defamation League of B'nai B'rith, and the Richard Rogers Award from the Professional Children's School of New York for "skilled leadership in raising the level of commercial television entertainment."
Silverman lives in Los Angeles with his wife, the former Cathy Kihn. They have two children, Melissa Anne and William Lawrence