Evan Weinstein '84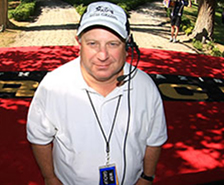 Evan Weinstein has been working in television for 25 years, writing, producing and directing in many different genres of Reality TV. He was a co-executive producer, director and writer on the first 18 cycles of The Amazing Race, for which he won seven Emmy Awards, a Directors Guild Award, and a Producer's Guild Award.
He created a web-based Branded Entertainment reality show as part of Budweiser's sponsorship efforts at the 2010 FIFA World Cup in South Africa. The series, Bud House, filmed in Cape Town, aired daily on a worldwide branded channel for the entire four weeks of World Cup, featuring a cast from 32 countries speaking 14 different languages, and generating over 1 million Facebook fans. He redesigned Bud House to be a more highly interactive, multi-platform digital experience for FIFA World Cup 2014 in Brazil.
Following the success of Bud House, Budweiser contracted Weinstein to create and produce two additional series: The Big Time, a reality-competition series that aired on ABC, and Dream On, a docu-soap about an English soccer team that aired on NBC Sports Network, ESPN UK, and various networks throughout the world.
Weinstein was also executive producer/show runner of Soap Net's The Fashionista Diaries and VH1's Celebrity Rehab with Dr. Drew. He worked with Storyline Entertainment (producers of the feature films Chicago and Hairspray) to produce and direct a musical pilot for CBS, and helped to launch History Channel's first docu-soap, the racecar series Madhouse. Other credits as a writer, producer and/or director include network series Paradise Hotel, Profiles From The Front Line, Before They Were Stars, and America's Funniest People, as well as History Channel's The Most, A&E's Top Ten, Paramount Syndication's Wild Things, The Suzanne Somers Show, the news magazine series Extra, and History Channel's two-hour documentary, The Apostle Paul. He directed an award-winning production of the stage musical, Candide, which starred fellow SU alum and current drama department teacher, Tim Davis-Reed.
Weinstein serves as a co-executive producer on Syfy Channel's reality hit, Robot Combat League. He holds a bachelor of fine arts degree in drama from Syracuse University and a diploma of music from New York's "famed" High School of Performing Arts. He took the time to answer the following questions:
What do you remember most about SU?
For me, the most memorable thing about my time at SU was the ability to truly pursue my love of theater in an environment that nurtured all of us as creative individuals. There were many opportunities available for anyone who chose to take advantage of them, and the professors really supported my pursuit of directing. Included in the generally supportive environment is a memorable group of people–students and faculty–who came together to create a robust and artistic college experience filled with good times, creative spirit and a sense of belonging to a fantastic community.
Who was your favorite professor while at SU?
I had the good fortune to be taught by many fantastic professors who were truly dedicated to making all of us the best we could be by allowing us to explore our creativity in a non-judgmental environment. They gave hugely to all of us and many made a tremendous impact on me…but, the one professor who truly took me under his wing and became my mentor was Arthur Storch. I was one of only a few directing majors and the only one truly interested in "commercial" theater projects and I believe he took a liking to me because that was his particular area of expertise as well. He went well out of his way to give me many opportunities that others had not had before, and made sure that each of these unique chances also became genuine learning experiences for me. He was the teacher who had the greatest impact on my life and career, and his recent death brought me great sadness.
Why did you move to California?
I moved to California in 1987 because the theater scene in New York had been stuck in particularly stagnant place for several years. There just were not the right opportunities for a young person wanting to direct commercial theater, so I threw in the towel, moved to Los Angeles and started from the bottom rung of the TV business, learning everything as I went because I hadn't studied any of it in school.
When was the last time that you visited the campus?
My last time on campus at SU was in May 2005, when I delivered the convocation address for VPA during graduation weekend. That was the first time I had visited the campus since the winter of 1987, a few months before I moved to California.