Christina Webb '12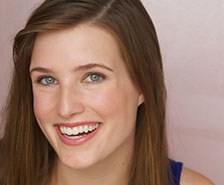 One of Nick Jr.'s top television shows is touring live across the country and our alumna Christina is the star of the show! 
What was your major/degree?
Broadcast Journalism & Vocal Performance
 How did your experiences at SU shape your career?
Any opportunity I have been afforded in my career is thanks to my time at Syracuse. In both of my majors, I had highly specialized coursework, but I was also able to take classes in a wide variety of other disciplines/areas. I was taught to ask questions and to always be the most prepared person in the room. These skills have served me well since pursuing acting professionally. The Los Angeles network of Syracuse alums is remarkable; I have made some of my best friends and made career connections through attending SULA programs over the years.  
What was your first job after college?
I got a job my first week in Los Angeles working part-time at SULA. Working for Syracuse made my transition to Los Angeles much easier. I immediately had a network of people who were ready and willing to help me in my career, plus, I met one of my best friends at the Soft Landing event the day I moved to LA. 
What has been a major highlight of your career thus far?
Hosting Nick Jr.'s Peppa Pig Live! has been an amazing experience. I travel the country 5 months out of the year performing for thousands of children in cities all across the United States and Canada. This winter I performed at The Grand Ole Opry and Austin City Limits, both of which were surreal career moments. Our tour will be heading to Syracuse in the spring, so I'm very excited for that.  
How have you stayed connected to SU?
Working at SULA for 5 years made my connection to Syracuse so much stronger. SULA does such an incredible job hosting alumni events and programs; it's nearly impossible not to stay involved. I feel like my relationship with Syracuse might be stronger now than when I was a student!
What is your favorite memory of Syracuse University?
My friends and I would stay late practicing at Crouse (Setnor School of Music), and often our rehearsals would devolve into us belting out our favorite songs into the wee hours of the morning. All of my favorite memories of Syracuse involve the amazing, lifelong friends I made and the professors who encouraged me to move to Los Angeles and pursue this wild dream.