Alisann Blood '02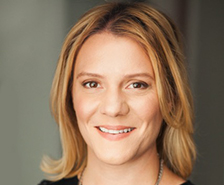 Alisann Blood studied Television-Radio-Film at SU's Newhouse School before breaking into the music business. She is the Head of Brand Partnerships & Strategy at Crush Music where she develops innovative integrated marketing partnerships and music strategies that pair Crush's roster of management clients to brands. Prior to that she was Vice President, Brand Partnerships and Creative Sync at Capitol Music Group for six years. She has held a number of marketing roles prior at Steve Madden, Island Def Jam Music Group, ID PR and Elektra Entertainment.
How did your experiences at Syracuse University shape your career?
All of the people I met, the activities I participated in, the internships I found through SU connects, all played a role in leading me towards my career. I wouldn't have wound up in the music business had it not been for my college best friend and roommate who happened to get a job in music 6 months prior and recommended me for my first job. Best lesson I learned at Syracuse was that your network is everything.
What was your first job after college?
Executive Assistant to the General Manager of Elektra Records
What has been a major highlight of your career thus far?
Joining Crush has been a huge highlight as I think artist management companies are changing the music business paradigm; Being at the 2015 Grammys and watching both Sam Smith and Beck sweep the top categories. I worked on both of their album campaigns and there is so much work that these artists and the people on their teams put into these albums and marketing them to the general public that it was really special moment to be in the room and see those artists recognized for their efforts.
How have you stayed involved and connected to SU?
When I was living in NYC, I was involved in SUMMA and the NY Regional Council. I've worked with the LA Regional Council and I try to make myself available to speak to students interested in music and entertainment.
What are you working on now?
I'm the VP of Brand Partnerships for Crush Music so I get to spend my day creating platforms and opportunities that pair our artists with brands. Crush has an incredible roster of established and emerging acts and I feel really lucky that I get to come to work every day and find ways to expose our artists and their music to the public in ways they might have not connected before.