Andrew Watkins '02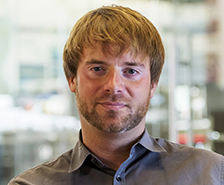 Andrew Watkins holds a Bachelor of Architecture degree from SU's School of Architecture and is an architect, planner, and urban designer at SWA in Southern California with over 15 years of professional experience. He is a member of the American Institute of Architects (AIA) and is a Leadership in Energy and Environmental Design Accredited Professional (LEED AP).
Watkins has researched contemporary urban conditions related to infrastructure and grassroots organization in both developed and developing nations including China, Indonesia, India, South Africa, Botswana, Ethiopia, Germany, Italy, and Mexico. His current work focuses on large-scale urban design projects that explore the confluence of ecology and urbanism. He holds a Masters of Architecture in urban design from Harvard University and has served as a part-time lecturer at the University of Southern California.
How did your experiences at Syracuse University shape your career?
My experience at Syracuse University, and specifically at the School of Architecture, shaped my career through three areas: a year studying abroad in Florence; an architectural education that taught me the importance of the city; and a relationship with a mentor/professor/colleague and friend that has intersected my career from freshman year through many years working and going to graduate school in Boston, and even my current job here in California.
What was your first job after college?
As an architect at Andrea Ponsi Architetto in Florence, Italy.
What has been a major highlight of your career thus far?
The ability to work internationally as well as very locally to shape cities has been an extremely rewarding experience, especially as I get to work on projects that range from working on high end developments to working with resource poor communities.
How have you stayed involved and connected to SU?
My connection with SU is mostly through numerous strong friendships I have made with classmates and professors from my time at SU. In fact, I spent Christmas with my freshman roommate this year.
What are you working on now?
I typically work on several projects at a time. Right now these include designing an entertainment district for the FIFA World Cup in Qatar, planning a 6,000 acre new town in Southern California called Rancho Mission Viejo as well as a similar 2,000 acre community south of Jakarta, creating a Greening Plan for the City of Inglewood, and several mixed use communities around the US.