Dwight Caines '87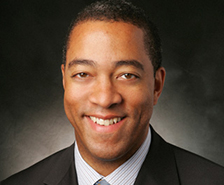 As president of worldwide digital marketing at Sony Pictures, Dwight Caines manages all strategic and creative aspects of digital campaign development for the studio's film titles across the globe. He leverages global digital media spending and institutional knowledge cross-divisionally, and drives the overall portal strategy for Sonypictures.com and Sonypictures.net.
Caines also provides strategic oversight to Imageworks Interactive, Sony Pictures' full-service agency that specializes in the extension of entertainment brands in the digital space. Caines has worked on more than 200 digital campaigns, including promotional efforts for some of the biggest theatrical hits of modern times, including the Spider-Man franchise, The Da Vinci Code, Casino Royale, Superbad, District 9, The Karate Kid, and The Social Network.
He previously worked at JP Morgan Chase, where he played an instrumental part in the development of the company's online banking business by launching and managing its first customer service center dedicated to internet banking clients. For his accomplishments in service excellence, Caines was nominated for the company's prestigious Excalibur Award.
An accomplished presenter and speaker at both digital and entertainment industry events, Caines' portfolio of work has earned him honors that include The Hollywood Reporter's Key Art Awards, a Clio Award, and Webby Awards. In 2009, he became the fifth marketer to receive the iMedia Visionary Marketer Award. The iMedia community also acknowledged his accomplishments in 2010 by naming him one of 25 "Internet Marketing Leaders and Innovators."
In 2010, The Internationalist Magazine named him as one of 18 "Internationalists of the Year". A member of The Academy of Motion Pictures Arts and Sciences, he earned a bachelor's degree in electronic media production from Syracuse University. He took the time to answer the following questions:
What do you remember most about SU?
My semester studying media abroad in London.
Who was your favorite professor while at SU?
David Hollenback
Why did you move to LA?
I accepted a job as director of market research for Sony Pictures Entertainment.