Kim Koser '79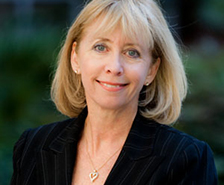 Kimberly Koser, director of human resources at Hillcrest Country Club, Los Angeles, attended Syracuse University where she earned a bachelor's degree from the College of Visual and Performing Arts. After college she moved to Manhattan, spent four years as an actress, then went to work in the prestigious theatre department of the William Morris Agency.
In 1989, she joined the newly formed human resources department at William Morris, where she was involved in restructuring the East Coast personnel function, including the world-famous agent training program. She earned a master's degree in human resources management from the New School for Social Research, and was later certified as a senior professional in human resources by the Society for Human Resources Management HR Certification Institute.
She married Glenn Koser and was widowed in 2003. In 2004, she was promoted to director of human resources, relocating to Beverly Hills to work in the William Morris corporate headquarters. She was later promoted to vice president of corporate human resources. In 2009, William Morris Agency was acquired by Endeavor Agency and the 111 year history of entertainment as told through the world's oldest and largest talent agency came to an end. She then served as senior vice president and director of human resources for Bank of Manhattan, based in El Segundo.
She took the time to answer the following questions:
What do you remember most about SU?
SNOW! Lee jeans, Frye boots and Honey Buns. No cell phones or ATMs. Saturday Night Live was a brand new show and cable TV was a brand new concept. We still had stereos, cassette tapes were beating out 8 track tapes and we had no computers. Papers were either written by hand or typed on a typewriter. The old Archibald Stadium was still there and hadn't yet been replaced by the new stadium. The rows of seats were very, very steep (scary to walk up and down the aisles) and girls would be grabbed and passed up the rows. I only went to one football game because of that!
Who was your favorite professor at SU?
I took one philosophy class with a professor named Messerich (I've forgotten his first name). He always drank Tab during class. The course covered only one book—Plato's Republic. The material was presented in a fascinating way and it was easy to pick up on and share his passion for the book. I never missed a class if I could help it. This was my one class in the beautiful Hall of Languages. It was the ultimate college (in class) experience. In the final paper we had to use the techniques of platonic argument we had learned to disprove something in the Republic. I couldn't believe I was actually able to do it, but I did.
Why did you move to LA?
I moved to LA to replace the head of human resources in the headquarters office of William Morris.