Andrew Gumpert '89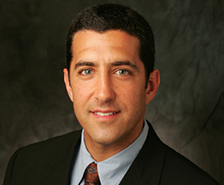 Andrew Gumpert is president of worldwide business affairs and operations for Columbia Pictures. He oversees all theatrical business affairs negotiations for the company's theatrical motion picture side. His deal making includes negotiations with actors, actresses, and behind the camera talent, including producers, writers, and directors. Additionally, he also works to acquire the screen rights for screenplays and books from writers and authors, which are then developed into feature films.
Grumpert plays an integral role in negotiating co-financing arrangements for feature films, as well as the distribution agreements for those films, for both the domestic and international markets. The hit feature films he has been actively involved with include Angels and Demons, The Karate Kid, Salt, Social Network, Smurfs, 2012, Men in Black 3, The Amazing Spiderman with Andrew Garfield and Emma Stone, and the James Bond box office hit Skyfall with Daniel Craig.
A native of Scarsdale, New York, Grumpert attended Syracuse University's Newhouse School of Public Communications, graduating in 1989, and then attended law school at American University's Washington College of Law in Washington, D.C., graduating in 1992. He started his professional career in Los Angeles as a business litigator with an emphasis on intellectual property litigation at the law firm Hill, Wynne Troop and Meisinger. In early 1995, joined Columbia Pictures' legal affairs department where he was responsible for drafting a wide array of motion picture production, distribution and finance agreements. In 1998, he joined Miramax Films (then headed by Bob and Harvey Weinstein) as senior vice president of business and legal affairs. After seven years with Miramax, he returned to Columbia as its head of business affairs.
He took the time to respond to the following questions:
What do you remember most about SU?
Besides the snow… the incredible education, lifelong friendships created, and the pain and anguish I felt when Keith Smart hit the winning game jumper in the 1987 NCAA Championship game, giving Indiana a 74/73 win over the Orange.
Who was your favorite professor while at SU?
I completely remember it was Com 505, Communications Law, Professor Sparks.
Why did you move to California?
The entertainment business.