Kelli Bixler '81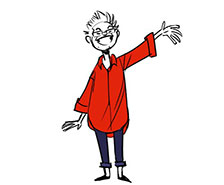 Kelli is the owner and executive producer of the award-winning Bix Pix Entertainment in Burbank CA. She earned a Bachelor of Science degree for Producing for the Electronic Media from Syracuse University's S.I. Newhouse School of Public Communications in 1981.

Kelli started out in live action films: producing, directing, writing, and editing training videos, industrials, music videos, commercials, and documentaries in Chicago before she fell in love with stop-motion annimation. She is also a Daytime Emmy Award Winner for Outstanding Pre-School Children's Animated Program!
How did your experiences at SU shape your career?
Syracuse gave me practical experience and the confidence to go out and get work.
What was you first job after college?
Continuity Writer/Asst. Unit Manager at WRTV in Indianapolis, IN… essentially a PA, the highlight of my time there was when I met and worked with Ted Kopple. He was kind and wrote all of his own copy on his tiny typewriter… He loved the tea with (cream & sugar) I served him from my Mother's silver tea service that I remember polishing to perfection.
What has been a major highlight of your career thus far?
Having the privilege of employing and collaborating with 80+ Artists and making something beautiful together… It also never gets old winning EMMYS, ANNIES and this year a BAFTA...that's the "cherry on top" part of show biz!
How have you stayed connected to SU?
Through my friendships with alumni, some older (like me) and some brand new.
What is your favorite memory of Syracuse University?
Snow. From October thru May the ground was blanketed in white…SNOW.

You can see Kelli's work at https://www.bixpix.com/.