Beth Mowins G'90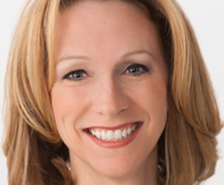 Beth Mowins G'90, the only female play-by-play announcer in college football, recently marked another milestone in her career as the first woman to call Oakland Raiders preseason games. A play-by-play commentator with ESPN, Mowins calls men's and women's college basketball, and has been the voice of the NCAA Women's College World Series for 20 years. She has called the Women's World Cup and NCAA women's championships in basketball, soccer, and volleyball.
Mowins earned a master's degree in broadcast and digital journalism from Syracuse University's S.I. Newhouse School of Public Communications, which awarded her the Marty Glickman Award for Leadership in Sports Media in July 2015. Fellow alumnus and acclaimed broadcaster with NBC Sports Bob Costas '74 presented the award, which was sponsored by the Newhouse Sports Media Center.
In 2013, Costas received the first Glickman Award, named for sportscasting pioneer Marty Glickman, a 1939 alumnus of Syracuse University. Glickman's legacy marks the beginning of the Newhouse School's reputation for turning out more talented sports journalists than any other program in the country.
Recently, Mowins took time from her busy schedule to answer questions about her career, and her continuing connection to Syracuse University.
What was your first job after college?
I started working in local radio in Homer, New York. I got the opportunity to be a news director, sports director, reporter, and morning DJ! It was a terrific chance to learn a little about a lot, to get a wide variety of experiences in the business.
What has been a major highlight of your career thus far?
Most recent would be getting the chance to call Oakland Raiders preseason games. It was an incredible experience to work with the Raiders and call NFL football, and a chance to open a new door for women.
How have your stayed involved and connected with Syracuse University?
I have really enjoyed getting together with students and other alums at events around the country. I try to get back to campus every year to give back. It was an honor to receive the Marty Glickman Award from SU.
What are you working on now?
In the fall, I love to work college football with ESPN, and perhaps get a chance to see the Orange at some point this year.