Bob Gautieri '76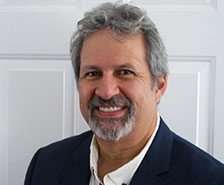 From his first moment stepping through the doors of Newhouse 2 as a freshman, Bob Gautieri was captivated by the television industry. Since then, the founding partner of Design On The Fly has made a career of working in television and maintains his Orange bond by connecting with other alumni around the LA region.
Tell us briefly about your career path and where you are today.
Immediately after graduation, I traveled to Los Angeles and began working as a post-production supervisor, and later, as a promo producer for Sullivan & Marks, a company that exclusively created on-air promotional spots for ABC. I then left for NBC, as manager, On-Air Promotion, where I created and produced on-air prime time promos, as well as the award winning fall campaign, "NBC Proud as a Peacock," which reintroduced the iconic peacock back to television. After heading the promotion departments at Beck/Davidson and Premiere Cable, I returned to ABC, first as manager of ABC Daytime Promotion and, later, as creative director of Current Series Promotion, responsible for prime-time promotion. There I helped create the award winning prime-time campaigns "You Love it on ABC" and "Together."  
In 1986, I went on my own and formed G-Man Productions, which expanded into the areas of show production, interstitial programming, promotion, and graphic main-title design for such clients as Dick Clark Productions, The Disney Channel, Don Mischer Productions, and Brad Lachman Productions. In 1994, Design On The Fly was formed—a creative alliance between myself and designer Kelly Shelly. Since then, we have created on-air looks for numerous award shows, including The Academy Awards, The Emmy Awards, and The American Music Awards. In addition, Design On The Fly has created main titles, graphics, and promotional campaigns for ESPN, Showtime, CBS, ABC Daytime, ABC News, ABC Family, Animal Planet, Reelz Channel, Dick Clark Productions, and numerous Fox specials.    
When you look back on your life, what has your SU experience meant to you?
My SU experience meant everything to me then and continues to today. It made me grow up, to put it mildly, and expanded my horizons. It taught me to think, and how to react in society, at a more educated level than ever before. It first taught me the skills that I still use today, intellectually and practically.
I was there for the opening of Newhouse 2, and with all of the cutting-edge equipment and facilities provided, it gave all of us hands-on involvement and taught us to work with people, that later translated to my professional workplace. We were using the same equipment at ABC as we were in Syracuse! Also, in terms of the overall experience, the professors demanded a high level of success and fellow students often motivated each other. To be in that large pool of talent can be intimidating as a 17-year-old, but I think we all rose quickly to improve our game. And yes, the social experience was outstanding--maybe not so much at football games back then—but basketball was great!  
What successes in your life do you attribute to SU?
Syracuse taught me to be prepared, to take nothing for granted, to master my craft and not rush through it, and motivated me on how to think and, more importantly, how to listen. That translates to all the aspects of my life. Although some would say I have to work on the listening part!
How did SU change your life and help you get to where you are today? 
I came from a small town in Connecticut and, upon arriving at Syracuse and looking at the Hall of Languages, intimidation flooded my body and I actually said, "I'll never make it here." My cousin overheard me (he was working on his doctorate at SU) and immediately pointed to me and said "I never want to hear that again." I think that message of "you can do it" resonated throughout my years there and, because of my professors, my fellow students in the classroom, as well as in my social life, it gave me the confidence to conquer anything I desired.
From that first moment on campus, and stepping through the doors of Newhouse 2, I was captured by the television industry. By being on a campus this enormous and diverse, I learned to work with large numbers of people. It first uncovered who I am, what I wanted, and how to get it. It simply made me the person I am today. And when that happens, the enormity of the campus transforms into a more intimate experience. Working on complex live shows such as The American Music Awards, where there are hundreds of people who depend on each other, where mistakes are not tolerated, that early learning experience at Syracuse comes into play every day. And each of those high-level, world-wide shows become intimate experiences, just like my days at Syracuse.
What is your favorite memory of Syracuse University? 
My favorite memory at Syracuse can't be articulated in one phrase. It's everything—discovering my professional passion, learning from professors, meeting the best friends in my life, marveling at the buildings while I walked on campus, experiencing great sports memories, going to concerts, marching at political rallies, eating Varsity pizza. I really had to pinch myself believing I was there. I only wish college lasted longer. My parents were glad it didn't!
As an alum in the LA region, how have you enjoyed connecting with other alumni in the area? 
Since SULA (Syracuse University Los Angeles) has been here, it has really helped to connect alumni. When I first moved to LA in 1976, I think there were only a handful of us that made the trip, and most moved back. There was nothing like SULA then. When we were in college, and for a large part in my professional life, there have been times when competition pitted us against each other. I think SULA has brought together alumni in its true form, knowing that we are more powerful if we help each other. It is so important that Syracuse maintain a strong presence in Los Angeles. Newhouse, I believe, is the best school in the country and needs to have a large footprint in this area, not just New York. It's not about just getting a degree from Syracuse, it's about doing something with it in the entertainment capital. I got the chance to work with great alums like producer Gil Cates on the Oscars. It was a terrific bond, and in part due to Syracuse. It is rewarding for me to see more students taking the risk to come out here. I've connected with younger alums and worked together with them, and that experience is really terrific also. And through the various events held in LA, the SU staffs are really doing a great service to bring alumni together.
Why do you think it is important to help future students get their start at SU by making SU part of your philanthropic priorities?
I got the chance of a lifetime to go to Syracuse. It changed my life. It is still changing it, as I now have wonderful friends back on campus to collaborate on projects, whether it be designing logos, helping on a video/film project, lecturing, or simply donating. The educational experience, developing our minds—that's what makes us who we are. I want someone to have that experience at Syracuse like I did, to create those ideas, to have that dream. I believe in paying it forward, and if I can help out or influence one person at SU, it's an honor to do that. And hopefully they will continue that tradition.