Events Home

Mix and mingle!
The Los Angeles area is a great place to be, especially for Syracuse University alumni. A variety of local Syracuse University events are scheduled regularly, giving you the opportunity to connect with alums, visit with Syracuse University faculty, administrators, and special guests and share your Orange pride!
One of the most convenient ways to find out about Syracuse University events in LA is to join our mailing list by updating your contact info at securealumni.syr.edu or by sending an e-mail to records@syr.edu. If updating via e-mail, be sure to include your full name, class year, address, e-mail address, and phone number.
Whatever your interest, check back often for details, and mark your calendar. And be sure to connect with us on Facebook for regular updates!
---
Not getting invites to our events? Sign up for event communications now!
Current Events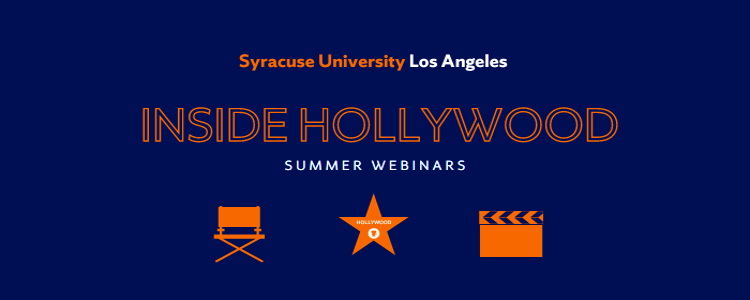 05-04-2021
Announcing June's entertainment webinars! 
We hope you've been enjoying our Inside Hollywood summer webinars—and we're thrilled to share what we've planned for June! 
Our alumni speakers will represent a wide array of roles in the entertainment industry, and the series will continue throughout the summer. Keep an eye out for speaker updates.
Coming up…
Tuesday, June 1
1 – 2 p.m. (PDT)
Join us for a conversation with two top marketing executives!
Angela Turner – SVP, Affiliate Marketing, REVOLT TV
Michelle Marks – Worldwide Marketing Executive specializing in Brand Marketing & Content Development
Tuesday, June 8
1 – 2 p.m. (PDT)
Mark Tinker – Television Producer & Director (Deadwood, Grey's Anatomy, American Gods)
Moderated by:
Bob Thompson – Trustee Professor, Television, Radio and Film | Director, Bleier Center for Television and Popular Culture 
Tuesday, June 15
1 – 2 p.m. (PDT)
JaNeika and JaSheika James – Co-Executive Producers on HBO Max's upcoming GOSSIP GIRL