Kip Konwiser '85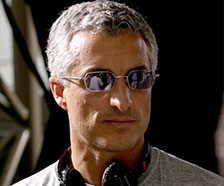 With the Newhouse School serving as an inspiration, entertainment producer and executive Kip Konwiser says his SU experiences "continue to play like a screen saver in my mind."
Tell us briefly about your career path and where you are today.
After graduating from SU, I attended the University of Southern California and received an MFA in cinema-television in 1988. Today, I am a studio executive and (multiple Emmy-winning) producer/director/writer and financier.
How did your experiences at SU help shape your career?  
I discovered "the voice that is great within us" (poet Hayden Carruth). With Newhouse serving as inspiration—as a presence representing that to which I aspired and ultimately achieved—I started my film career through SU with Warren Miller Ski Films at Song Mountain nearby.
When you look back on your life, what has your SU experience meant to you?
More and more each day, I'm able to align my SU experience to my life: career goals discovered, lifetime relationships born, and the pride of association and accomplishment.
What is your favorite memory of Syracuse University?
The snow and loving every flake until the sun finally breaks and the joy of the quad erupts-- along with the fun, friends, lovers, teachers, inspirations and experiences that continue to play like a screen saver in my mind.
Why do you feel it's important to give back and help future students at SU
I've been blessed with a lifetime of remarkable experiences, and as a professor at SULA, structuring life's lessons into a syllabus is a gift that's as inspiring for the teacher as the student.
As an alum in the LA region, how have you enjoyed connecting with other alumni in the area?
Not as much as I'd like, but I'm always thrilled when I'm able. 
Anything you'd like to add?
I'm grateful to have been a student, honored to teach at SULA, and proud of our son at Newhouse. Go Orange!