Jason Mesches '08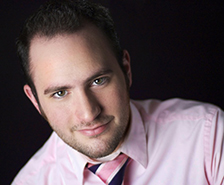 Jason Mesches made his network television debut on the CBS show The Big Bang Theory. He made his Mechanicals debut in The Laramie Project and was so impressed by the company that he became a member and put together a one-man show to raise funds and awareness for them. Other theatre credits include: Fiddler on the Roof, the touring companies of Fractured Fairy Tales, and Vladek, Viet Rock, Rocky Horror, Asses & Elephants, The Last Days of Judas, Guys & Dolls, The Music Man, Twilight of the Golds, The Hypochondriac, and others. Mesches played both Dromios in The Comedy of Errors at Shakespeare's Globe in London while studying abroad in 2006. He served on the editorial staff for CollegeHumor.com and is the less attractive half of the hit comedy duo Mesch & Cod. His 18 years of jazz piano and 12 of guitar are but small bullet points on his list of hobbies. A proud graduate of Syracuse University, he earned a bachelor's degree in drama/acting from the College of Visual and Performing Arts.
He took the time to answer the following questions:
What do you remember most about SU?
The snow, my friends, good times, and the fact that no matter what day of the week it was there was always someone, somewhere, in our theatre or in a lobby or an attic performing some sort of piece, be it a full scale production or minimalist blackbox. There was always theatre happening.
Who was your favorite professor while at SU?
Tim Hardy from my semester abroad in London, and Craig Macdonald from my time in Syracuse.
Why did you move to LA?
I moved to LA after a professor advised me to go so I could focus my acting work on TV and film, instead of the New York theatre scene.