Josh Altman '01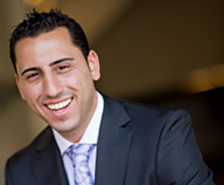 Josh Altman is one of the most successful real estate agents in the Beverly Hills and Hollywood Hills luxury housing market. His clientele consists mostly of entertainers, athletes, and high net-worth individuals from around the world. He ran his own real estate finance company for two years before joining the Hilton and Hyland team, quickly becoming one of the top agents in the business. Due to his remarkable success, Altman was chosen to star in BRAVO TV's hit show, Million Dollar Listing.
Despite a busy schedule, he still finds time to give back to his community. Altman is passionate about volunteering his time and money to support numerous charities and causes. A native of Newton, Massachusetts, Altman attended Syracuse University, majoring in speech communications. He was one of the kickers on the Syracuse University football team that won the Big East Championship two years in a row, playing in both the Orange Bowl and the Fiesta Bowl. After a short stint in New York City, he moved to Los Angeles to pursue his dream of real estate.
He took the time to answer the following questions:
What do you remember most about SU?
Marshall Street, the campus in the snow, The Mount, and of course the football games at the Carrier Dome.
Who was your favorite professor while at SU?
Honestly, I can't remember their names but as a whole, Syracuse has made a huge impact on my life so a big thanks to all of my professors.
Why did you move to LA?
To pursue my real estate career.