Keep on Food Trucking by Spike Anderson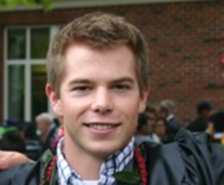 Aside from my internship and the free HBO at the Oakwood, the thing I'm going to miss most about Los Angeles is the food. When I first got here and saw the In-N-Out burger three minutes from my apartment I feared this semester was going to be problematic. In reality, animal fries aren't very exotic after the first few times you order them. Over these last few months, I've discovered that LA's true specialty is its quality and diversity of food trucks.
One of the more glamorous perks of my internship is that all of my lunches are paid for. Even better, each Wednesday one of LA's seemingly endless number of gourmet trucks posts up outside of our office. This allows me to get pretty bold with my order and not feel guilty when the Peruvian/Japanese fusion spaghetti I paid $8 for turns out to be a dud.
Some of the best meals I've had this semester have come from these mobile restaurants including the buttered lobster roll from "Lobsta Truck" and the Korean infused spicy pork tacos from "Kogi" – a vehicle that has more Twitter followers than many A-list celebrities. Before coming to LA, I rarely, if ever, craved a burrito made from sushi cooked from the inside of a converted FedEx van. Now, sushirittos are about the only thing that matter to me.
Spike's Top 5 LA Food Trucks
Lobsta Truck
LudoTruck (closed)
Jogaski Sushi Burrito Truck 
Grilled Cheese Truck