Disclaimer: This Blog is Not for Vegetarians by Maggie Applegate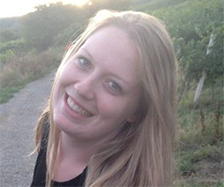 Before I left for Los Angeles, I fantasized about going to spinning classes, drinking kale smoothies and rubbing elbows with celebrities. However, I didn't realize that I didn't have to suffer into vegan submission in order to enjoy LA because this city has a knack for one thing and that is BURGERS! Like a snowflake, each burger is unique in its own way and I set out to try as many as I can.
First, I had to start with the classic, In-N-Out. Avoiding In-N-Out while in Los Angeles is like avoiding Varsity at Syracuse, nearly impossible. For a fast-food joint, In-N-Out serves up a tasty slab of beef. The double-double is a fan favorite, and I personally like to add cheese. The In-N-Out mystery sauce is what makes this burger what it is. If you're feeling wild, try it animal style! You won't regret a trip to this California classic and it won't come close to breaking the bank, as a meal will cost less than $10. There is an In-N-Out very close to the Oakwood on Ventura Boulevard.
When you finish a class at the SULA Center and are craving a burger, stick around in Sherman Oaks and try The Habit. This is another chain restaurant, so it isn't terribly expensive. This burger comes with caramelized onions, which I love. David and Julie Chambers might also recommend this burger after a morning at Writer's Journey.
And when you're on your way home way from the SU center, stop by Umami Burger on Ventura Boulevard (they also have several other locations across Los Angeles). I had a truffle burger that changed my life. This is one of the best burger I've had while I've been in L.A, but it will run you about $15. The burger is made with truffle oil and is cooked to perfection. Add a side of cheesy tater tots or sweet potato fries and bask in this melt in your mouth experience.
If you're in Santa Monica, enjoy a Pier Burger while taking a stroll down the Santa Monica Pier. Start your day on the Third Street Promenade and enjoy all the wonderful shops and fun street performers. The Pier offers a few small rides, an arcade, tourist shops, and there are even screenings of films on the weekends. The Pier Burger is honestly a replica of the In-N-Out burger, but it comes with a view of the Pacific Ocean, so how can you complain!
Did you enjoy your beach burger, but looking for a change in scenery? Head down the Pacific Coast Highway (aka the PCH) to Venice Beach. While in Venice, I tried to spice things up a little by going to Med Café, a good Mediterranean Café on West Washington Boulevard. My burger was made of lamb and had tomatoes and tzatziki sauce. This burger ran about $12 and was an interesting alternative to the regular beef cheeseburger.
West Hollywood has a lot of great eateries. I tried Astro Burger, which is on Santa Monica Boulevard. The burger has a good sauce, similar to the sauce you would find at In-N-Out. Although this burger is good, the chocolate milkshake I tried really stood out to me! It's one of the best milkshakes I've ever had.
Finally, if you're looking to feel like a celebrity, head to Café Midi on La Brea Avenue. Not only does this place serve great brunch food, it also has a burger topped with brie cheese, caramelized onions, bacon, mustard and mayo. It's an amazing experience for the taste buds and when I was there, I was seated next to Amanda Peet. This burger will cost about $14, but with the great ambiance, it's well worth it.
Before heading home I'm still planning on hitting up The Counter, Stout, and Plan Check, which all promise very enticing options. Happy Eating L.A.!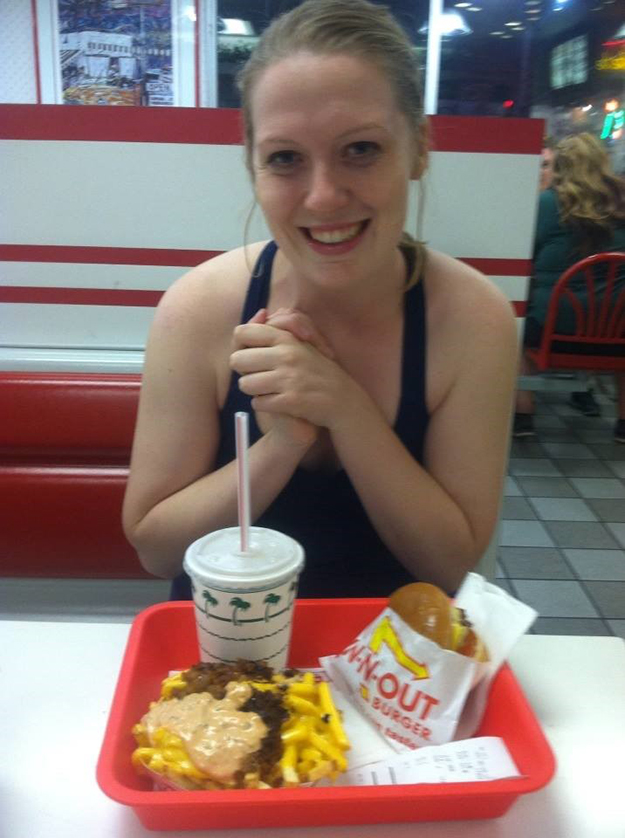 Maggie Applegate with her first In-N-Out burger with animal style fries.