Spelling Out My Time in Los Angeles by Mia Kuhn
Life – Living in LA is everything the songs and movies make it out to be. Nothing does come close to the golden coast when you're lying underneath the palm trees on a warm October day.
Oakwood Apartments – The Oakwood (el oh el) situated in the rolling hills of LA overlooking the Warner Brothers lot, houses a colorful spectrum of humans. From child actors and momagers of said child actors to university students (woo, that's me!), you can always meet someone with an interesting story at the pool, gym, and if you're daring enough Oakwood Singles Night—those exist…
Surprises – LA is filled with surprises. I went out for a hike at Wisdom Tree trail (really close to the Oakwood) and ended up stumbling upon the Hollywood Reservoir, a gorgeous area to go for a run with a great view of the Hollywood sign! Hiking has become one of my favorite things to do here because it's free, good exercise, and always offers a beautiful view the city.
Adventures – Branching out of the central LA area is difficult when you have to consider time and gas, but when you do it only great things can happen. One of the first weekends I was here I went to San Diego with 3 other students from the program. All in one day we had some great Mexican food, hung out with seals, laid on the beach, and repelled down a cliff.
New friends – I work with some really great girls who have become my really close friends here. We do your typical gal pal thangs out and about in LA like weekly dinner parties, movies, nights out, shopping, and hiking.
Getting Places – Traffic is not that bad when you have your windows down and you're listening to your favorite jams. A little dancing in the car helps the time pass too.
Ellen – I have dreamed about working for the Ellen DeGeneres Show since I was 16 years old. As an Ellen intern I am a small, yet crucial part of a greater, bigger, ginormous, super-successful whole. During my time here I rotate through 5 departments: Research, human interest, web/media, audience, and production. Every day is a great day, but on September 29th I was making copies in the copy room. I was on my way back downstairs to the audience department and I heard heavy footsteps. I thought to myself…"It couldn't be, could it? Just say good morning if it is…" It was. I said "Good Morning" and Ellen DeGeneres said "hi" to me. That day was an exceptional day. [~*~SiDe NoTe: No, I haven't met Ellen. She's extremely kind, talented, and polite and I see her almost every day when she's in the office, but I can't stop her to ask if she has any good vegan pie recipes because she's got a show to do! ~*~]
Love – I've fallen head over heels in love with Los Angeles, where you're never lonely on the freeways and the sun is always shining.
Elton John – I'm a big fan of Sir Elton John. I saw him at the Staples Center last week and he sang, "Don't Let the Sun Go Down," one of me personal favs, and I stood there in my feather boa (I had to go all out) and had a moment.
Sorry – Sorry I wrote so much, but thanks for reading this if you made it all the way to "S!"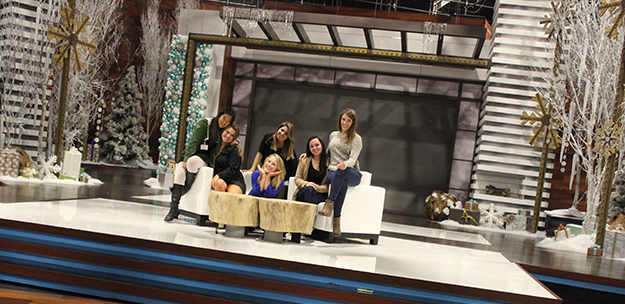 Mia Kuhn (center above, far left below) on the set of The Ellen DeGeneres Show during her internship.