2020 Jack and Victoria Horne Oakie Comedy Event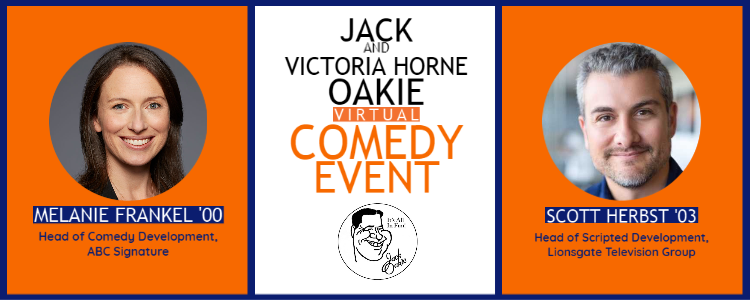 Event Details
Wednesday, September 16th 
5:00pm-6:30pm (PDT)
Zoom (You will receive a link after registration)
Questions?
Joan Adler 
Assistant VP Regional Programs—Los Angeles
Syracuse University Los Angeles invites you join us "virtually" for a special Q&A event with some of the top alumni professionals in comedy television development today! Join co-host of NBC 4's "California Live," Danielle Nottingham '99, as she speaks with Head of Comedy Development at ABC Signature, Melanie Frankel '00, and Head of Scripted Development at Lionsgate Television Group, Scott Herbst '03. 
Melanie Frankel '00

Head of Comedy Development at ABC Signature

Melanie Frankel is Head of Comedy Development, ABC Signature. She is responsible for developing comedy projects for the studio across its multiple in-house partners as well as those outside of the Disney Television Studios landscape.

She worked in ABC Studios' Comedy Department from 2007-2011, before leaving to serve as head of Comedy Development for USA Network. During her tenure there, she developed the series "Playing House," "Sirens" and "Benched." She later returned to the ABC Studios Current Department, where she had oversight of both comedy and drama series.

She graduated with a bachelor's degree from the S. I. Newhouse School of Public Communications at Syracuse University. 
Scott Herbst '03

Head of Scripted Development, Lionsgate Television Group

Scott Herbst oversees the development of scripted series for Lionsgate's Television Group, one of the largest independent television businesses in the world. 

Lionsgate Television Group renewed all five of its new scripted series this year with Herbst overseeing key shows, including the critically-acclaimed high-concept drama "Zoey's Extraordinary Playlist" for NBC and the romantic comedy series "Love Life" for HBO Max, which were both renewed for second seasons. With more than 50 projects set up at multiple networks and 20 producer/writer deals at Lionsgate, he is also shepherding several new pilot and series orders including the Seth Rogen and Sarah Silverman comedy "Santa Inc.," which was ordered straight to series at HBO Max as well as the pilots "Home Economics" for ABC, "Ghosts" for CBS, "This Country" for FOX and "Minx" for HBO Max.

He is a New York native and a graduate of Syracuse University's S. I. Newhouse School of Public Communications.
Moderated by: Danielle Nottingham

Co-host of "California Live"

As the co-host of the Emmy-nominated NBC show, "California Live," Danielle takes viewers on an adventure to discover unique sights and sounds throughout California, and reports on the latest trends in beauty, fitness, food, health, technology and entertainment.

An award-winning journalist, Nottingham has travelled the globe covering breaking news, entertainment and politics. Prior to joining NBC4, she was a correspondent with CBS News in Los Angeles and Washington D.C., where she covered the mass shooting in Las Vegas and massive mudslides in Montecito as well as red carpet coverage for the Grammy, Emmy and Academy Awards. She also reported on national politics and global affairs, including the Pope's resignation in Rome and Nelson Mandela's funeral in South Africa. She has won a Los Angeles Press Club award for her coverage of refugees from war-torn countries re-settling in Southern California.

Nottingham graduated from Syracuse University with a degree in speech communication, and is a member of the National Association of Black Journalists and Alpha Kappa Alpha sorority.
The Jack and Victoria Horne Oakie Charitable Foundation

The Jack Oakie and Victoria Horne Oakie Charitable Foundation's mission is to follow through with the late Jack Oakie's words, "Give the money to the kids," by underwriting lectures and scholarships for deserving film and theater students at some of the most prestigious institutions in the nation. Syracuse University is a proud recipient of Jack and Victoria Horn Oakie Scholarships for our SULA semester students.
---